Slide 1 - copy - copy
Medical Coding Solutions
Scalable and cost-effective solution for managing coding complexity to ensure accurate claims.

Proficiency and Expertise
Medical coding is complex and ever-changing. With over 144,000 ICD-10 code sets, effective medical coding requires comprehensive decision making, lightning speed, pin-point accuracy, and proven expertise. Industry error rates are averaging over 5%, and that translates to massive losses in revenue. Of those denied claims, a full 65% are never reworked or resubmitted, and the revenue is lost completely.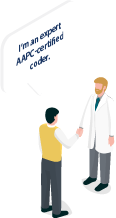 Our ability to attract and train the highest level of certified medical coding specialists at a fraction of the cost allows you to focus on the patient experience and your core operations. Our customers consistently report denial rates of <1% significantly beating average industry performance.
How We Help You Solve Your Coding Challenges
Medical Coding
Your bottom line depends on quick and accurate medical coding to unlock critical revenue. With over 144,000 ICD-10 codes, your team needs highly qualified medical coders who can maximize your reimbursement and continuously improve coding workflow. Our expert AAPC-certified coders accurately classify each treatment and procedure and verify each medical code based on the patient's clinical record, allowing you to generate more revenue.
Coding Denials
Coding denials significantly harm your bottom line revenue. Our highly-specialized team investigates each coding denial for root cause and ushers denied claims through to resolution.
With ongoing professional development, our coding experts are uniquely qualified to analyze reasons for denials and build safeguards to prevent future coding inaccuracies.
Clinical Documentation Improvement and Gap Analysis
We periodically review and assess sample charts to determine the accuracy of the documentation available for ICD-10 coding. We identify, classify, and measure gap resources to determine disparities in the information. Our analytics dashboard provides trends in modalities, CPT codes used, and ongoing practices that lead to gaps in documentation. We also present detailed reports and consult with physicians to maintain proper clinical records.
Concurrent Audits
We conduct quality checks at the time of coding and make corrections before we submit your claims for billing.
Retrospective Audits
We conduct quality checks that track coding submissions and then perform a root-cause analysis to design and implement a preventive action plan tailored to your practice.
Focused Audits
Quarterly, we focus on evaluation and management (E&M), CPT, and diagnostics to ensure the overall health and productivity of your coding and billing system.
Our Coding Team Approach
Our coding division is made up of AAPC- and AHIMA-certified professionals with many years of coding experience in various specialties. Overseen by a coding project manager, our highly-trained team of coding professionals and specialized auditors deliver outstanding coding services and second-to-none customer service.

Coding Professionals
ICD-10 certified by AAPC
CPC certified
Minimum 6 months of hands-on experience
Ability to code for various specialties
Coding Project Manager
AAPC/AHIMA certified
10+ years of experience in coding across various specialties
3+ years of experience in clinical documentation and gap analysis
Specialized Auditors
CPC certified coders
ICD-10 certified by AAPC
7+ years of experience across multiple specialties
Medical Coding Specialties
Every specialty has unique challenges, and we are trained to meet them. We guarantee it! We can reduce your coding errors to <0.01% and improve your patient and physician satisfaction.
Your repeat referrals depend on our precise coding and denial-free billing for your patients.
Without a doubt, coding is complex. Your bottom-line revenue relies on a complicated system of ICD-10 diagnosis codes, CPT procedure codes, and an ever-changing interpretation of third-party payer requirements. By partnering with Infinx, you could free up frozen revenue through the coding process and reduce or eliminate your abandoned rejected claims going forward.
"I oversee coding, billing, and other functions. Working with Infinx, we have been able to maintain our costs while getting resources quickly. Infinx staff are trained and experienced and work well with our staff. They have become our RCM partner."
Our Results
Transactions
Per Month:
1M+
Transactions
to Date:
30M+