Data Designed To Optimize RCM
With the rise in A/R and denials data combined with the constantly changing payer reimbursement requirements, it can be nearly impossible for healthcare finance executives to forecast reimbursements and champion an action plan for revenue cycle workflow improvements at their organization.
Advanced analytics are becoming increasingly critical for data-driven decisions and proactive planning in the revenue cycle management (RCM) space. Common analytic modules provide RCM insights through standard reports and pre-defined static dashboards resulting in a underwhelming experience for finance leaders as there are no insights as to what will likely happen to their A/R and what actions or process improvements should take place to collect outstanding reimbursements, regardless of aging.
Meet IRIS, AI-Powered Revenue Insights
With our cloud-based, AI-powered RCM analytics product, Revenue Insights (IRIS), healthcare finance leaders are now equipped with EMR charge and remit data that is transformed into predictive analytics and actionable intelligence that enables them to quickly digest key revenue cycle metrics to proactively take steps to reduce denials, decrease write-offs and achieve maximum A/R recovery.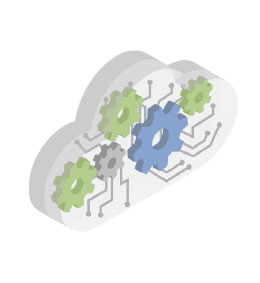 AI/ML Execution
Denial Analytics
EMR/Billing
Systems Integration
Extensive
Knowledge Base
A/R & DENIALS INTELLIGENCE
Prioritize Work For Maximum Recovery
Standard business intelligence models and static dashboards do not capture the significance of factors driving revenue cycle KPIs.
IRIS automatically examines claims data and performs proprietary calculations based on Infinx's extensive patient access and RCM knowledge and process database.
The results in our interactive dashboards assist revenue cycle teams determine which claims or denials to work on first by providing helpful insights like:
Payer balance vs. patient balance
How much of payer A/R was denied
Aging bucket segmentation with HFMA benchmarks
Segmentation by payers, denials, denial codes and procedures
Remittance denial rates
Denials by date further segmented by adjustment reason denial code, procedures, facilities and insurance carriers
Armed with this intelligence, revenue cycle teams can prioritize and route claims to appropriate team members with the right expertise to work the claim or denial.
PAYMENTS TRANSPARENCY
Transform Data To Reimbursements
Get visibility into payer collections and take advantage of IRIS transformed data to tackle payment shortfalls, prevent revenue leakage and locate new revenue opportunities. IRIS interactive dashboards display key collection data like like:
Collected amounts vs. contractual amounts by CPT/procedures
Collection performance by payer
Collection performance by facility
Revenue cycle managers can then implement quality and operational improvements to coding and billing workflows to increase reimbursements and prevent write-offs in affected areas.
BILLING PLATFORM AGNOSTIC
Quick Onboarding = Quick Results
IRIS is platform agnostic, meaning it can pull from any billing system/EHR/EMR without complicated integrations. As a cloud-based solution with a monthly subscription, revenue cycle teams can quickly bring this tool into their reporting workflow.
Our team of specialists who have been helping clients with patient access and RCM activities for years are available to work alongside you to get the data you need to achieve the results you are looking for.
INSTANT REVENUE CYCLE KPIS
Easy-To-Create Reports For C-Suite
Most senior executives rely on spreadsheets, legacy data management tools, out-of-the-box BI tools and basic template reports to report on past revenue cycle performance for their monthly presentations.
They hit obstacles when trying to present a true picture of the clinical and financial data to report on the organization's health, discover reimbursement trends and uncover operational insights to improve revenue cycle performance.
Let IRIS prepare detailed financial packages that report retroactive performance with revenue cycle KPIs as compared to HFMA industry benchmarks, and a proactive strategic RCM optimization plan to make an impact for your next stakeholders meeting.
Our clients tell us these packages take days to build and IRIS reports bring immediate value. They now have time to focus on what they were brought on to do.
60% reduction of >120 days aged AR in 6 month
14% increase in net collection ratio
60% reduction in cost to collect
40% reduction in denial rates
64% decrease in denial and aging AR write-offs