Slide 1
Orthopedic Prior Authorization
and RCM Solutions
Capture more revenue with solutions for prior authorization, medical coding and accounts receivable.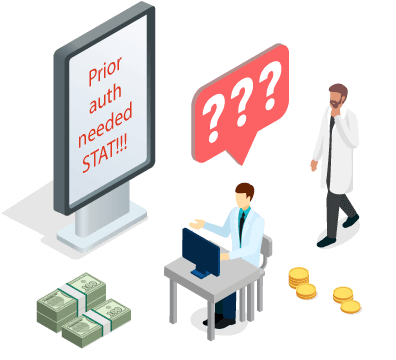 Managing Prior Authorization
Volume and RCM Denials
Orthopedic groups know the pain of the payment lifecycle. Virtually every procedure requires prior authorization. The volume of requirements produces a strain on resources, and directly affects patient outcomes. 92% of doctors say that prior authorization demands reduce patient satisfaction. The lack of process leading to denials inevitably affects revenue down the line.
Simplifying the process requires automation and knowledgable experts who can handle changing guidelines and quick deadlines. Orthopedic practices need a complete payment lifecycle solution that includes a robust prior authorization solution. They need certified experts who can properly code and bill the first time and manage denials promptly.

Infinx is the healthcare company that preserves your revenue through the entire payment lifecycle by removing the primary reasons that cause denials.
Orthopedic RCM Solutions Include:
Patient Access
Payment lifecycle for orthopedic practices begins with accurate information. Orthopedic practices need robust data that informs patient engagement workflow, including insurance verification and benefits, patient payment estimates, referrals, and prior authorization status.
With an intelligent platform, driven by artificial intelligence enhanced software, and certified specialists who can handle exceptions, Infinx can help you automate your entire patient access workflow, including patient eligibility and verification, patient pay estimation, and prior authorization.
Coding
The second step in the orthopedic payment lifecycle is accurate coding. You need a team that can consistently and accurately code with minimal errors, which allows you to move directly to billing.
Infinx offers coding services to ensure your payment is handled on time with industry-leading accuracy. Our certified and trained coders and innovative technology enables a workflow that reduces errors by 50%, accelerates the billing process, and helps you capture more revenue. Our customers consistently experience less than 1% denial rate.
Billing
The third step in the orthopedic payment lifecycle is accurate and timely billing. Your billing needs to meet payor guidelines expectations.
With services for charge entry, payment post, credit balance resolution, and contract management, Infinx provides a complete solution that meets your needs. We understand the nuances between medical specialties and can bring an exceptional experience to your bottom line.
Accounts Receivables
The final step in orthopedic payment lifecycle is capturing revenue, which is the lifeblood of any medical business and where you realize revenue to stay in business.
Infinx brings intelligent automation to the accounts receivables and denials management process. We use machine learning to analyze your existing accounts and forecast how much you can actually capture, what should be captured, and what should be written off. And then we put human intelligence to work to follow up to secure your revenue.
1
Intelligent Automation
With a seamless and scalable platform, you can intelligently automate many of your patient access and RCM processes.
2
A Complete Solution
We deliver a complete solution that includes both artificial intelligence and certified specialists across the payment lifecycle.
3
Certified and Trained
Our certified and trained coders and billers know how to deliver positive outcomes, allowing you to focus on what matters most: patient care.
4
Guaranteed
We stand by our work and guarantee what we do. We believe customer satisfaction is paramount to delivering business success.
"After integration, Infinx streamlined our prior authorization process almost immediately. We saw a dramatic decrease in denials and our revenue revealed it."
Our Results
Prior Authorizations
Processed Yearly
>3.5 MM
Satisfied
Customers:
100+