Getting Back to Patients
Administrative paperwork can slow down medical practice efficiency and physician productivity significantly. More than 70% of physicians report spending one day or more every week on administrative tasks. The average physician will lose $83,000 per year in managing just prior authorizations. These administrative responsibilities restrict billable hours, contribute to physician and staff burnout, and keep doctors from doing what they love, which is spending quality time with patients.

Infinx is the healthcare company that preserves the revenue through the entire payment lifecycle by automating the critical workflows that keep you from patient care.
Infinx Patient Access Software
to Transform the Patient Experience
Infinx's Prior Authorization Software blends automation, integration, cognition, and control to offer you an optimized workflow for your entire
patient access process. It leverages our artificial intelligence (AI) and certified specialists who manage exceptions to provide a robust and
seamless solution for pre-registration issues. AI optimizes your workflow, giving you insight into status and activities. Cases needing more in-depth
attention are then forwarded to our global team of specialists who can process your prior authorization with speed and impeccable accuracypeccable accuracy.
With intuitive feature sets, our software is designed to bring you successful outcomes at each patient touch point: no auth decision engine, insurance verification and eligibility, patient pay estimate, prior authorization, referral management, propensity to pay, and optimized scheduling.
The Patient Access Journey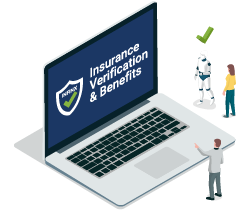 Insurance Eligibility and Verification
Patient access begins with insurance eligibility. The quicker you can determine if a patient is eligible and has insurance, the sooner you can determine care.
Patient Pay Estimation
Patients need information to make good decisions about healthcare. Providing patients with immediate estimates gives the patient peace of mind about what he/she can afford.
No Auth Determination
Waiting to see if a procedure requires a prior authorization can be incredibly frustrating. Determining in real-time if it's necessary or not allows the patient to move forward as quickly as possible.
Prior Authorization
Patients needing critical medical care often require prior authorizations for those services. Getting an approval STAT means a patient can leave knowing when the next appointment is scheduled.
Referral Management
Seeing another doctor can feel uncomfortable for patients. Managing your referrals effectively means making sure your referring physician has all the critical information needed to provide services and to satisfy your patient's concerns.
Optimized Scheduling
A critical part of the patient experience is scheduling. Knowing when a prior authorization is going to be complete, gives you the ability to schedule effectively, creating a happy patient.
Infinx is your partner in creating satisfied patients. We focus on the automation and expertise, while you focus on the patient's experience.